The actor Richard Thomas (born 1951) is best known for his leading role as John "John-Boy" Walton Jr. in the CBS tv-series The Waltons. In 1973, his performance on the show earned him a Primetime Emmy Award in the category Outstanding Lead Actor in a Drama Series.
Another example of an opportunity to see Richard Thomas is the 1990 miniseries adaptation of Stephen King´s horror story It, in which Thomas co-starred as Bill Denbrough, the stuttering founder of the Losers Club who desires to kill the predatory monster Pennywise.
More recently, Thomas played Special Agent Frank Gaad in seasons 1-4 of FX´s period spy drama series The Americans.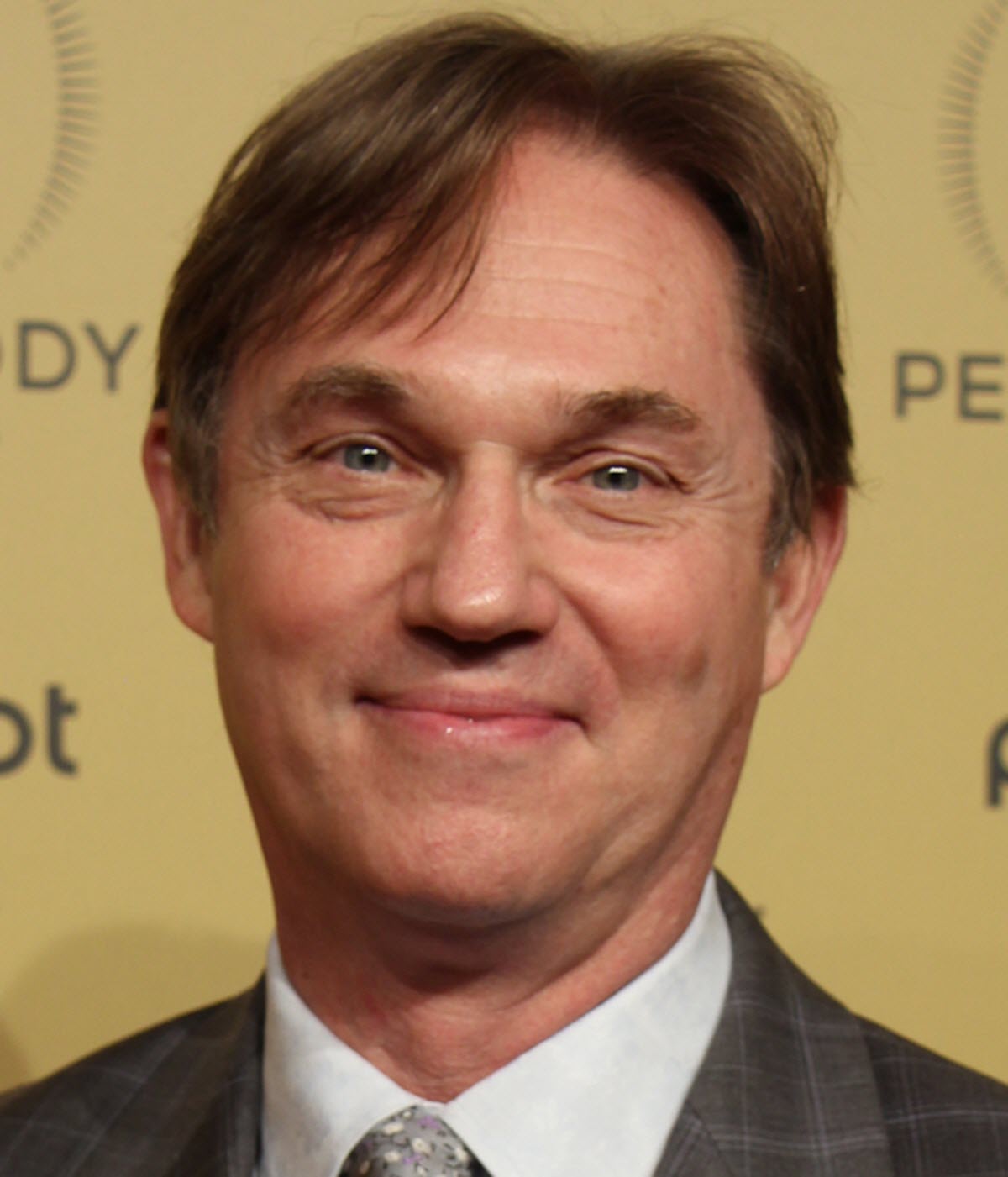 Childhood
Richard Thomas was born in 1951 and grew up in Manhattan, New York City. He is the son of the dancers Barbara Fallis and Richard S. Thomas, who founded the New York School of Ballet.
Thomas made his Broadway debut in Sunrise at Campobello in 1958, when he was just seven years old. The following year, he could be seen in the NBC Hallmark Hall of Fame presentation of Henrik Ibsen's "A Doll's House", where he acted alongside stars such as Julie Harris, Christopher Plummer, and Hume Cronyn.
Throughout his childhood, he appeared in several daytime soap operas broadcast from New York City, including The Edge of Night (where he played Ben Schultz in 1961), A Flame in the Wind, and As the World Turns (where he played Tom Hughes in 1966-1967).
Education
Richard Thomas studied at Columbia College, which is the undergraduate college of Columbia University. He majored in Chinese, before switching to the English department.
He left Columbia during his junior year, because he had gotten the role as John-Boy in The Waltons and needed to be in Los Angeles.
Adult acting career
Richard Thomas first major film role was in the 1969 movie Winning, a film starring Paul Newman as racecar driver Frank Capua and Thomas as his teenage stepson Charley. That same year, Thomas also appeared in the coming-of-age film Last Summer alongside Bruce Davison and Barbara Hershey.
In 1970, Thomas could be seen in the episode "The Weary Willies" of Bonanza, the longest-running western on NBC.
In 1971, Thomas was back on the big screen again, playing the lead role in both Red Sky at Morning (a film based on the 1968 Richard Bradford novel of the same name) and the independent film Cactus in the Snow; a story about a young man about to get shipped out to Vietnam.
The Waltons
Richard Thomas appeared as John "John-Boy" Walton Jr. in the 1971 CBS tv-movie "The Homecoming: A Christmas Story", and when CBS decided to make a tv-series based on the characters in the film Thomas was asked to return. (Many of the other actors from the movie were replaced by other actors for the series.)
Thomas appeared in 122 episodes of The Waltons, before leaving the show in 1977 and being replaced by Robert Wightman. Thomas would later return to play John-Boy in the three tv-movie sequels that aired in the 1990s.
During his time with the tv-series, Thomas directed five episodes of The Waltons.
After The Waltons
Richard Thomas continued with his acting career after leaving The Waltons, and have since then appeared in films, tv-movies, and on stage. For more details about his movies and tv-series, see the lists below.
Thomas has also been the co-producer of What Love Sees (1996), the co-executive producer of Summer of Fear (1996) and For All Time (2000), and producer for Camping with Camus (2000).
Richard Thomas on stage
Richard Thomas made his Broadway début at tender age of 7, and after his time with The Waltons he returned to Broadway in 1980 as a replacement in Landford Wilson´s "Fifth of July".
In 1987, he played the political activist Thomas Paine in the one-man show "Citizen Tom Paine" by Howard Fast, and performed in both Philadelphia and Washington DC.
Examples of other stage productions on his resume:
In 1990, Thomas played the role of Stephan in Terrence McNally´s "The Lisbon Traviata" at the Mark Taper Forum in Los Angeles.
In 1993, he had the title role in a Shakespeare Theater production of Richard II in Washington, DC.
Hamlet (1987), Peer Gynt (1989), Richard III (1994), and Tiny Alice (1996) at Hartford Stage, Connecticut.
The 2001 London's West End production of Yasmina Reza's Art.
The Public Theater's 2005 production of As You Like It. (In Central Park, New York.)
Michael Frayn's Democracy on Broadway (2004)
Primary Stages' off-Broadway production of Terrence McNally's The Stendhal Syndrome (2004)
Reginald Rose's play Twelve Angry Men, at Shubert Theater in New Haven, Connecticut, in 2006. Thomas played Juror Eight, and George Wendt played Juror One.
The 2009-2010 Broadway production of David Mamet´s play Race, where Thomas played alongside James Spader, David Alan Grier and Kerry Washington.
In early 2011, Thomas starred in the Off-Broadway production Timon of Athens, at the New York Public Theater.
The 2017 revival of The Little Foxes, on Broadway. For his work with this play, Thomas was nominated for a 2017 Tony Award for Best Featured Actor in a Play.
In December 2018, Thomas played Ebenezer Scrooge in Pittsburgh CLO´s production of A Musical Christmas Carol.
Family life
Richard Thomas married the club dancer Alma Gonzales in 1975, and their son Richard Francisco was born the following year. In 1981, the family grew as the triplet daughters Pilar, Barbara and Gwyneth were born. The couple divorced in 1993.
In 1994, Thomas married Santa Fe art dealer Georgiana Bischoff. Bischoff had the two daughters Brooke and Kendra from previous marriages, and in 1996 she gave birth to a boy which was named Montana.
Filmography
Year
Title
Role
1969
Winning
Charley
Last Summer
Peter
1971
Red Sky at Morning
Joshua Arnold
The Todd Killings
Billy Roy
Cactus in the Snow
Harley MacIntosh
1972
You'll Like My Mother
Kenny
1977
September 30, 1955
Jimmy J.
1980
Battle Beyond the Stars
Shad
2000
The Million Dollar Kid
Ted Hunter
Wonder Boys
Walter Gaskell
2009
Taking Woodstock
Reverend Don Darren Pettie
2015
Anesthesia
Mr. Werth
2021
Christmas vs. the Walters
Roger
The Unforgivable
Michael Malcolm
Short films
Thomas narrated the 1974 short film "Sisters of the Space Age".
TV-movies
Year
Title
Role
1959
A Doll's House
Ivor
1971
The Homecoming: A Christmas Story
John-Boy Walton
1974
The Red Badge of Courage
Pvt. Henry Fleming
1975
The Silence
Cadet James Pelosi
1978
Getting Married
Michael Carboni
1979
No Other Love
Andrew Madison
All Quiet on the Western Front
Paul Baumer
1980
To Find My Son
David Benjamin
1981
Berlin Tunnel 21
Lieutenant Sandy Mueller
Barefoot in the Park
Paul Bratter
1982
Pavarotti & Friends
Himself
Johnny Belinda
William Richmond
Fifth of July
Kenneth Talley Jr.
Christmas at Kennedy Center with Leontyne Price
Himself
1983
Living Proof: The Hank Williams, Jr. Story
Hank Williams Jr.
Hobson's Choice
Will Mossup
1984
The Master of Ballantrae
Henry Durie
1985
Final Jeopardy
Marty Campbell
1988
Go Toward the Light
Greg Madison
1989
Glory! Glory!
Rev. Bobby Joe
1990
Andre's Mother
Cal Porter – Andre's Lover
Common Ground
Colin Diver
1991
Mission of the Shark
Lieutenant Steven Scott
Yes Virginia, There Is a Santa Claus
James O'Hanlan
1992
A Thousand Heroes
Gary Brown
Lincoln
John Hay
1993
I Can Make You Love Me
Richard Farley
Precious Victims
Don Weber
Linda
Paul Cowley
A Walton Thanksgiving Reunion
John-Boy Walton
1994
To Save the Children
David Young
1995
Death in Small Doses
Richard Lyon
A Walton Wedding
John-Boy Walton
Down, Out & Dangerous
Tim Willows
The Christmas Box
Richard Evans
1996
West Virginia: A Film History
Narrator (voice role)
What Love Sees
Gordon Holly
Timepiece
Richard Evans
1997
A Walton Easter
John-Boy Walton
A Thousand Men and a Baby
Dr. Hugh 'Bud' Keenan
Flood: A River's Rampage
Herb Dellenbach
1998
Big and Hairy
Victor Dewlap
2000
In the Name of the People
Jack Murphy
The Christmas Secret
Jerry McNeil
2001
The Miracle of the Cards
Dr. Neal Kassell
2002
Beyond the Prairie, Part 2
Charles Ingalls
Anna's Dream
Rod Morgan
2005
Annie's Point
Richard Eason
2006
Wild Hearts
Bob
2011
Yesterday, Today and Tomorrow
Dick
2021
The Waltons' Homecoming
John-Boy Walton (voice)/Host
Video films
| | | |
| --- | --- | --- |
| 1989 | Beyond the Prairie: The True Story of Laura Ingalls Wilder | Charles Ingalls |
| | | |
| --- | --- | --- |
| 2000 | Bloodhounds Inc. | Robert Hunter |
Television series
Year
Title
Role
Notes
1961
Way Out
Jeremy Keeler
Episode: "The Croaker"
Great Ghost Tales
Conradin
Episode: "Srendhi Vashtar"
The Defenders
Johnny Remington
Episode: "The Boy Between"
From These Roots
Richard
Unknown episodes
The Edge of Night
Ben Schultz, Jr.
1961–1962
1, 2, 3 Go!
Himself
5 episodes
1964
A Flame in the Wind
Chris Austin
Episode: "#1.1"
1965
Seaway
Martin Anderson
Episode: "Last Voyage"
1966–1967
As the World Turns
Thomas Christopher Hughes #4
Unknown episodes
1969–1970
Marcus Welby, M.D.
Dennis Alan Graham
2 episodes
1970
Medical Center
Toby Tavormina
Episode: "Runaway"
Bracken's World
Alan
Episode: "Fallen, Fallen Is Babylon"
Bonanza
Billy
Episode: "The Weary Willies"
1971
The F.B.I.
John "Chill" Chilton
Episode: "The Game of Terror"
1972
Night Gallery
Ian Evans
Episode: "The Sins of the Fathers"
1972–1977
The Waltons
John-Boy Walton
124 episodes
1973
Match Game 73
Himself
5 episodes
1979
Roots: The Next Generations
Jim Warner
3 episodes
1989
The Greatest Adventure: Stories from the Bible
Mark
Episode: "The Easter Story"
1990
Tales from the Crypt
Dr. Trask
Episode: "Mute Witness to Murder"
It
Bill Denbrough
2 episodes
1995
The Outer Limits
Dr. Stephen Ledbetter
Episode: "The New Breed"
The Invaders
Jerry Thayer
2 episodes
1996
Dave's World
Himself
Episode: "L.A. Times"
1997–1998
Promised Land
Joe Greene
4 episodes
Touched by an Angel
2 episodes
1997
Riding the Rails
Narrator
TV documentary
1998
The Adventures of Swiss Family Robinson
David Robinson
30 episodes
1999
The Practice
Walter Arens
Episode: "Committed"
1999–2001
It's a Miracle
Host
24 episodes
2001
Law & Order: Special Victims Unit
Daniel Varney
Episode: "Scourge"
2002–2003
Just Cause
Hamilton Whitney III
22 episodes
2006
Nightmares & Dreamscapes
Howard Cottrell
Episode: "Autopsy Room Four"
2009
Law & Order
Roger Jenkins
Episode: "Dignity"
2011
Rizzoli & Isles
Professor Dwayne Cravitz
Episode: "Rebel Without a Pause"
2013–2016
The Americans
Frank Gaad
41 episodes
2013
Law & Order: Special Victims Unit
Nat Randolph
Episode: "Brief Interlude"
White Collar
William Wolcott
Episode: "Master Plan"
2014
The Good Wife
Ed Pratt
Episode: "Dear God"
2016
Chicago P. D.
Adam Ames
Episode: "A Night Owl"
Elementary
Mitch Barrett
Episode: "Henny Penny the Sky is Falling"
Conviction
Earl Slavitt
Episode: "A Different Kind of Death"
2017, 2019
Billions
Sanford Bensinger
3 episodes
2017
Blue Bloods
Congressman Richard Walters
Episode: "Ghosts of the Past"
2019
The Blacklist
David Foy
Episode: "The Third Estate"
2019–2020
NCIS: New Orleans
Deputy Director Van Cleef
2 episodes
2020
The Comey Rule
Chuck Rosenberg
2 episodes
2021
Tell Me Your Secrets
Bodie Lord
5 episodes
2022
Ozark
Nathan Davis
3 episodes
Awards and nominations
For his role in The Waltons, he was awarded the 1973 Primetime Emmy Award in the category Outstanding Lead Actor in a Drama Series. He was nominated for the same award in 1974, but did not get it that time.
For his role in The Waltons, he was also nominated for a Golden Globe Award in the category Best Actor – Television Drama Series in both 1974 and 1975.
In the 1990s, Thomas was nominated for a CableACE Award twice in the category Best Actor in a Movie or Miniseries. First in 1990 for his role in Glory! Glory! And then in 1995 for his work in the crime drama Linda.
More recently, he has been nominated for a 2016 Drama Desk Award in the category Outstanding Featured Actor in a Play for his role in Incident at Vichy, and for a 2017 Tony Award in the category Best Featured Actor in a Play for his role in The Little Foxes.