The TV-show The Waltons was created by Earl Hamner Jr., who based it on his own 1961 novel Spencer´s Mountain, who had by then already been used as the basis for the 1963 film of the same name.
The film Spencer´s Mountain is a family drama set in the Grand Teton Mountains in Wyoming, USA, in the early 1960s. The novel was adapted to script by Delmer Daves, who also produced and directed the film.
The film stars Henry Fond and Maureen O´Hara as a married couple, with the supporting cast including James MacArthur, Veronica Cartwright and Victor French who were all still early in their acting careers back then. The grandfather was played by seasoned English actor Donald Crisp, in what would be his final screen role.
The film focuses on the Spencer family, with husband Clay Spencer (Henry Fonda) and wife Olivia Spencer (Maureen O´Hara) struggling to eke out a living for their family in a small mountain town. Clay Spencer is a fiercely independent man, who likes to drink with his friends and rail against the town minister (Wally Cox), but he is also devoted to his family. A main theme in the film is the need to navigate issues of religion and education, as the eldest Spencer son Clayboy aspires to attend college and have a career away from the mountains, but needs the scholarship to make it happen.
The movie was criticised by film reviewer Bosley Crowther for being "synthetic and essentially insincere" compared to the novel.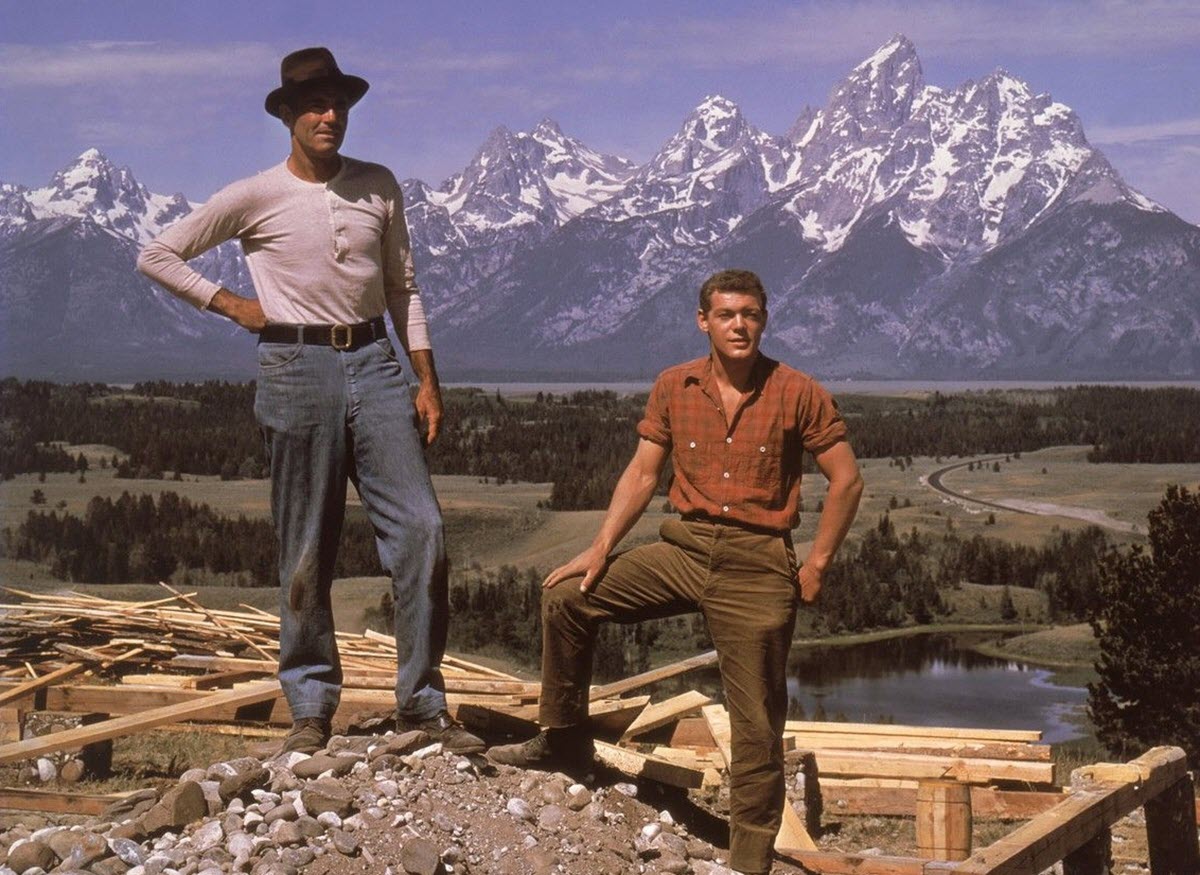 Short facts about the film Spencer´s Mountain
Premier: May 16, 1963
Country: USA
Language: English
Director: Delmer Daves
Screenplay: Delmer Daves
Producer: Delmer Daves
Production company: A Delmer Daves Production
Based on: The Novel Spencer´s Mountain by Earl Hamner Jr.
Starring: Henry Fonda, Maureen O´Hara, James MacArthur, Donald Crisp, Wally Cox, Mimsy Farmer
Music: Max Steiner
Cinematography: Charles Lawton (first unit) and H.F. Koenekamp (second unit)
Edited by: David Wages
Distribution: Warner Bros.
Running time: 118 minutes (1hour and 58 minutes)
Box office: $4.5 million (USA/Canada rentals)
Cast
Henry Fonda as Clay Spencer
Maureen O'Hara as Olivia Spencer
James MacArthur as Clayboy Spencer
Donald Crisp as Grandpa Spencer
Wally Cox as Preacher Goodman
Mimsy Farmer as Claris Coleman
Virginia Gregg as Miss Parker
Lillian Bronson as Grandma Spencer
Whit Bissell as Dr. Campbell
Hayden Rorke as Colonel Coleman
Kathy Bennett as Minnie-Cora Cook
Dub Taylor as Percy Cook
Hope Summers as Mother Ida
Ken Mayer as Mr. John
Unbilled
Susan Young as Shirley Spencer
Gary Young as Mat Spencer
Michael Young as Mark Spencer
Ricky Young as Luke Spencer
Rocky Young as John Spencer
Veronica Cartwright as Becky Spencer
Kym Karath as Pattie-Cake Spencer
Barbara McNair as graduation singer
Mike Henry as Spencer brother
Victor French as Spencer brother
Larry D. Mann as Spencer brother
Med Flory as Spencer brother
Michael Greene as Spencer brother
Jim O'Hara as Spencer brother
Bronwyn FitzSimons as Dean Beck's secretary
Rory Mallinson as campus cop
Production
While the novel was set in the Appalachians of Virginia, Delmer Daves decided to move the plot to Wyoming´s Teton Mountain Range as he felt the more imposing mountains would better emphasize the characters´ isolation and struggles with the environment.
The movie was therefore filmed in and around the town Jackson in Teton County, Wyoming, and includes majestic shots of the Teton Mountain Range by cinematography Charles Lawton, who worked in colour using Panavision.
One example of a true Wyoming landmark that can be seen in the film is The Chapel of Transfiguration, a small log chapel in Grand Teton National Park, built in 1925.
Examples of differences between the movie Spencer´s Mountain and the tv-show The Waltons
For the TV-show, the setting was switch back from Wyoming to Virginia, just as it is in the novel.
The movie takes place in the early 1960s, while the TV-show spans 13 years and covers the Great Depression, World War II and its aftermath (1933-1946).
The TV-show played down many of the adult themes present in the movie. Alcoholism and infidelity are featured heavily in the movie.